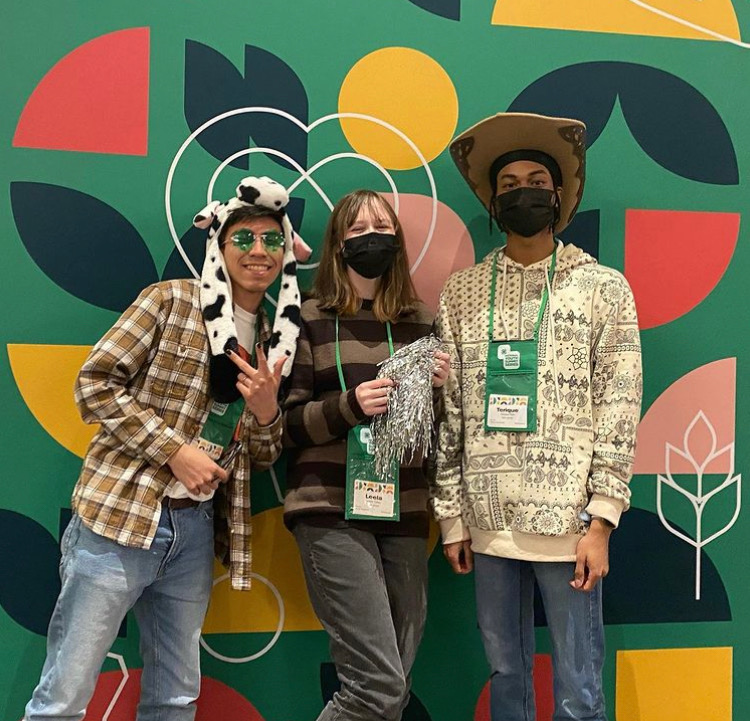 4-H is an informal, hands on educational program for youth. It is the youth development program of Rutgers Cooperative Extension, the off-campus division of the New Jersey Agricultural Experiment Station of Rutgers University. The 4-H "learn by doing" approach promotes youth development while participants are having fun, making friends, and knowing they belong.
Mission Statement: The 4 H Youth Development program uses a learn-by-doing approach to enable youth to develop the knowledge, attitudes, and skills they need to become competent, caring, and contributing citizens of the world. The goals of the 4-H Youth Development Program are to:
Provide informal educational programs to youth in grades K-13 (one year post high school).
Strengthen skills for adult volunteers working with youth.
Collaborate with community organizations and agencies.
Rutgers Cooperative Extension Burlington County 4-H offers a variety of club project activities for youth of all ages/grades. Contact the 4-H office for additional information. 609-265-5052
Upcoming Events

Clubs
4-H Clubs are the foundation of Burlington County 4-H Youth Development. Through regular meetings and activities, clubs offer youth a welcoming environment to learn, grow, and make lifelong friends. Burlington County Clubs are located throughout the county and are led by two adult volunteer leaders who are trained and appointed by Rutgers Cooperative Extension staff.
Some clubs may offer special Cloverbud programs for children in grades K-3. If your child is interested in a certain club or project area, please contact the club leader directly for additional information. To find out how to serve as a volunteer or how to start your own chartered 4-H club, please call the 4-H office 609-265-5052. Below is the list of clubs and the contact information of the club leaders.
Expressive Arts
4-H Burlington County Players
Theater project features live performances by participants.
Currently on a break. If you would like to be on the waiting list please email.
Westampton
Lesa Thibodeaux: mrsthib@gmail.com

4hplayers@gmail.com
Burlington County 4-H Cloggers
Dance Project members practice public presentation and
perform at various venues in the county.
New members may join in September/ October.
Westampton
Loretta Marshall:
lorettamarshall1992@gmail.com or
856-985-3478

Reitta Pestritto:
pprestojr@verizon.net
Science, Engineering & Technology
Sod Squad
Agriculture/Horticulture/Garden project activity.
Open to 4th grade and older with parent support.
Currently on a break, contact 4-H office to join wait list.
Springfield
Contact 4-H Office at
609-265-5052
Pollinator Protector
Save the Monarchs! Save the Bees! Join us as we learn about pollinators and take action to ensure their
survival well into the future.
Cinnaminson
Kathleen Colley:
kapaleena@gmail.com

Michele Horvath:
njshell@hotmail.com
Learning & Leadership
Active Citizenship
Youth members in grades 6th-13th (one year post high school) become competent, caring, and contributing citizens through hands-on leadership and community service opportunities while learning about the rights and duties of citizenship. Members vote on, plan for, and participate in civic and service opportunities throughout the county.
Mt. Holly
Christie Dragan:
lexena6@icloud.com

Nicole Meyers: woodstreamdream@gmail.com
Teen Council
Youth in grades 8th-13th (one year post high school) practice leadership skills through participation in local, state, and national teen activities. Members set club goals together and plan their projects.
Westampton
Carolyn Shelby:
clshelby@juno.com

Nona Chamberlain: NC1@sigmaco.com
Horse Project
Chase the Blues 4-H Club
Lumberton
Caitlin Umstetter: caitumstetter12@gmail.com

Nicole Asper-Grzib:
agrzib@verizon.net
Equine Science
A horse project STEM club geared towards learning about horse keeping, horsemanship, equine health, wellness, anatomy and physiology. Activities include 3 annual State competitions, field trips, hands on learning about tack/equipment, all with no need to own a horse or even ride horses!
Westampton
Jennifer Knox:
J.M.Knox47@gmail.com
Flying Changes
Youth members are exposed to a diverse variety of equine knowledge. They learn how to apply their learning through hands on experience including grooming and riding well mannered horses and ponies.
Southampton
Sue Fotiou:
swfotiou@gmail.com
Young Riders
A horse club with a focus on western performance events and dressage, promoting versatility of horse and rider. Members are encouraged to participate in horse care, equine science projects, drill team, and community service.
Westampton
Stacey Powell:
staceyvitt@comcast.net
Animal Project
Animal Adventures
Small Animal
Pemberton
Stephanie Klinger: 4hanimaladventures@gmail.com
Barnyard Bandits
Small Animal
Chesterfield
Nona Chamberlain: NC1@sigmaco.com
Carrot Club
Members learn about the care and keep of their own rabbits, cavies, and other small animals. Youth learn the fine points of showmanship and participate in local 4-H shows and
competitions. The club also participates in many 4-H
outreach programs and community service projects.
Grade 4-13; no animal required
Maple Shade
Sue Kopertowski: twofunlabs67@gmail.com
Crazy Critters
Youth learn all about small animals including rabbits, and cavies.
Every year youth participate in the small animal show and the Farm Fair.
Westampton
Cindy Fries:
cfries4330@aol.com

Kevin Fries: LzrdkngDoors420@aol.com
Goat Gang
The goat gang and livestock club is dedicated to the education of animal husbandry especially farm animals. Teamwork, community service and hands-on learning takes place on the third Saturday of every month.
Chesterfield
Lydia Francis: lydiafrancis21@yahoo.com
Feathers Fur & Four Legged Friends 4-H Club

The club will be welcoming any farm animal or farm related project that youth would like to work on. This club will give youth the opportunity to share their knowledge with one another while learning from each other at the same time. The club has lots of fun, and educational experiences.
Southampton
Heather Pearson: hp0211@yahoo.com or 609-724-5743

Karen Hardy: kbshontz@aol.com or 609-707-0363
After School 4-H Club Programs with Other Youth Serving Organizations
McGuire Blue Falcons
Science
Aftercare club at the McGuire Youth Center. Must be enrolled in School Age Care or Open Rec.
JB McGuire-Dix-Lakehurst
Brianna Boyd: bboyd@co.burlington.nj.us
Dix Warriors
Science
Aftercare club at the Dix School Age Care. Must be enrolled in School Age Care or Dix Open Rec.
JB McGuire-Dix-Lakehurst
Brianna Boyd: bboyd@co.burlington.nj.us
Lockheed Martin Moorestown 4-H STEM
Science & Engineering
Accepts youth in grades 9-12.
Moorestown
Edward McCloskey: edward.m.mccloskey@lmco.com

Matthew Patane: matthew.t.patane@lmco.com
Membership 4-H Affiliate Programs
The Opportunity League
The Opportunity Science, Technology, Art, & Math (STEAM) Club is an awareness building, exploratory program that brings community youth together as learners and inspires youth to pursue careers in STEAM. Youth focus on practical real-world connections by applying STEAM knowledge, engaging in hands-on STEAM activities and exploring STEAM related fields.
Burlington City
Shenee Osmuso: scarroll@theoleague.org

Seigha Osmuso: seigha@theoleague.org
Contact Information
Rutgers Cooperative Extension of Burlington County
2 Academy Drive
Westampton, NJ 08060
609-265- 5052
Gloria Kraft, County 4-H Agent – kraft@njaes.rutgers.edu
Brianna Boyd, 4-H County Program Assistant- bboyd@co.burlington.nj.us