Main Content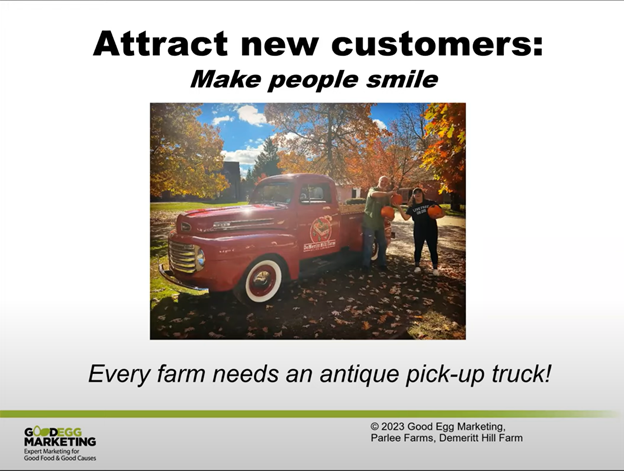 The University of Vermont's Tourism Research Center recently hosted an excellent webinar on marketing for retail farms. After an introduction from Lisa Chase, the Center Director, the discussion was kicked off by Myrna Greenfield, the "Top Egg" at Good Egg Marketing and author of the recently published book, "Marketing Your Farm: a practical guide to attracting loyal customers and increasing sales".
Myrna introduced her framework for successful farm marketing that included 1) build customer loyalty, 2) increase sales per visit, and 3) attract new customers. She then invited the two farmer-panelists to describe how they are implementing this framework on their own farms. The following is a summary of effective and unique marketing strategies that were described by Myrna and the panelists during this webinar.
To view the webinar recording and see previous webinars from the University of Vermont Tourism Research Center, visit https://www.uvm.edu/vtrc/past-webinars.
Build Customer Loyalty
The panelists agreed that a positive customer experience is key to earning and maintaining customer loyalty. To achieve this, they recommend hiring friendly employees who are trained to be welcoming and patient with guests. They note the importance of having enough staff in place to keep wait times to a minimum and ensure a clean, safe farm environment. One farm had even invested in large, family friendly and accessible bathrooms to further enhance customer's on-farm experience.
The panelists emphasized the importance of staying in touch with your customers even after they've left the farm. They use various routes of communication such as email, text/SMS, and social media to directly inform their customer base of happenings on the farm. These channels can also be used reward loyalty by offering coupons or exclusive experiences like early pick-your-own opportunities or behind the scenes tours. In particular, an email listserv was favored by the panelists as well as automatic loyalty rewards through their point-of-sales software. They suggest you make it easy for customers to be added to your email listserv. Add a banner to your website for visitors to 'Subscribe' or keep postcards with a QR code at the register so visitors can easily find the subscription link.
Success for these farms seemed to be a balance between routine dependability and exciting new offerings. Finding the balance and keeping customers up-to-date is pivotal. In one case, the farm offers a year-round petting zoo but breeds their livestock annually so that newborn animals are present each spring. Customers know they can always visit the petting zoo, but the newborn animals encourage early visits to the farm in the spring. The farmer keeps patrons informed on the arrival of new babies in the petting zoo through their email listserv, social media, and website.
Increase Sales per Visit
The panelists discussed several strategies they depend upon for increasing the sales per visit. One strategy was to offer products that patrons would otherwise purchase off the farm. For example, cold refreshments and ice cream are welcome additions to the farm stand when visitors are spending time outdoors on your farm (e.g., pick-your-own, petting zoo, etc.). Likewise, adding a farm bakery or commercial kitchen can increase the diversity of offerings at the farm stand so patrons who purchase fruits and vegetables for their weekend barbecue can also pickup farm-made salsas for appetizers and pies or fruit cakes for dessert.
One farm had success with launching a food trailer to offer lunch items to farm visitors. They started with just a few items and expanded the menu slowly. When a new item was added, they would offer free samples or include the new item free with the purchase of another item.
Unique offerings were important to the success of the farms. In one case, they purchased a corn roaster that, not only creates the "best corn ever", but the delectable smell of roasting corn makes it impossible for market patrons to resist. The farmers also pointed out that merchandise – especially hats or keychains – are hard to resist, so selling farm merchandise can be another way increase sales per visit.
Lastly, I wanted to share one very creative incentive discussed by one of the panelists. The incentive was: buy one pick-your-own apple bag and get $2.00 off your pumpkin purchase of $5.00 or more. The farmer recommended this type of incentive because it helps drive earlier sales of pumpkins when customers are coming out for PYO apples in the early fall. Perhaps there are other, similar incentives that you could develop to increase sales of certain crops when you normally have an excess or tend to have a short window for sales of a crop.
Attract New Customers
For the panelists, attracting new customers starts with making the farm visible. Some ways the panelists have increased awareness of their farms included paid advertisements on social media, promotions to get existing customers to write reviews, and hiring a Search Engine Optimization (SEO) firm to improve the visibility on Google/Bing/etc. Another approach mentioned was to partner with other farm businesses so your products and farm name reach new customers. Large, attractive road signs were also strongly recommended by the panel.
One of panelists shared that involvement in the community has been essential to gaining new customers. He expressed that regularly hosting tours for schools as well as senior citizens, Boy and Girl Scouts, and other groups helps expose people to the farm. Children, specifically, like to revisit the farm with their parents, so school tours help increase traction with local families. That farm also hosts races for the local cross-country racing team and a popular Halloween attraction, both community activities that further increase visibility of the farm.
Once potential customers learn about your farm, it's important that your online presence secures their interest in visiting. Keeping your website up-to-date with daily changes that reflect product availability and scheduled events is key. Finally, improve the professionalism and aesthetic of your website by hiring a professional photographer and/or videographer to capture the beauty of your farm and the fun of your on-farm activities.