Main Content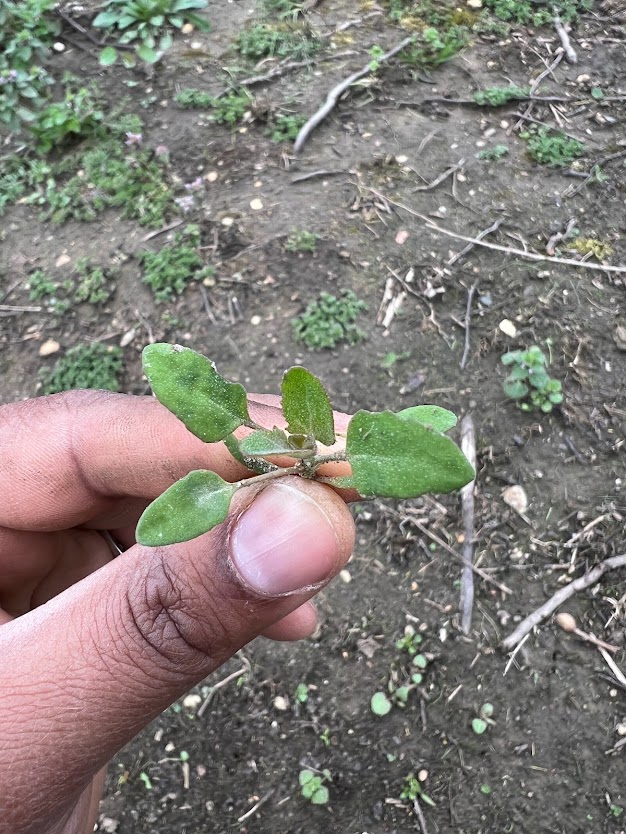 I was surprised to discover several Common Lambsquarters weeds in my garden last week with 2-6 true leaves. With the recent, summer-like temperatures, summer annual weeds are getting a jump on the season this year. As the planting season is near for many Burlington County farmers, I remind you to pay close attention to the weed species present in your fields and life stage of those weeds so you don't miss this important opportunity for early season weed control.
In the case of Common Lambsquarters, our recent dry conditions and this early start to germination provides an opportunity for improved control through tillage. Tillage promotes germination of Lambsquarters, and these plants dry out readily once uprooted. Therefore, delaying final seedbed preparation 1-2 weeks after your initial tillage can be an effective strategy for reducing the Lambsquarters seedbank ahead of planting.
Common Lambsquarters has one of the longest germination periods of any agricultural weed, which is one reason Lambsquarters can be challenging to control. At planting, you need to be prepared to manage Lambsquarters at multiple life stages simultaneously – from seed through plants with active, vegetative growth.
Timing is everything when it comes to Common Lambsquarters control with herbicides. For example, Atrazine 4L is a commonly applied herbicide to control Lambsquarters and other annual broadleaf weeds in sweet corn production. However, the Mid-Atlantic Commercial Vegetable Production Recommendations state that post-emergence applications must occur when the weeds are less than 2 inches tall. As you plan your early season weed control, keep in mind that pre-emergent herbicides will prevent emergence of Lambsquarters still in the seedbank, but the window for post-emergence control will be very short for already emerged Lambsquarters.
Lastly, timely herbicide applications are critical for resistance management. Although not documented in New Jersey, Common Lambsquarters populations resistant to atrazine (WSSA Group 5) have been widely reported across the region. Stay vigilant as the season progresses and improve efficacy with post-emergence herbicides by making herbicide applications when weeds are less than 4 inches tall.