Main Content
Junior Explorers: Azerbaijan
Hey kids! Do you know where Azerbaijan is? Would you like to meet kids from Azerbaijan and learn about their culture? Well then, this is the club for YOU! We'll be sharing what kids from NJ love to do while learning what Azerbaijani kids love to do. This club is open to 15 American youth and 15 Azerbaijani youth and will be completely in English. We'll be making traditional dishes together (a list of ingredients needed will be provided after registration) and covering things like music and dancing, local legends and stories, and holidays. Register here if you are up for an adventure to explore another culture and make new friends from around the globe! This program is for youth ages 10–13. Sessions will run on Sundays from 10 a.m.–11 a.m. Starting March 13 through May 1 (no meeting on Easter Sunday).
Junior Explorers Azerbaijan Registration Link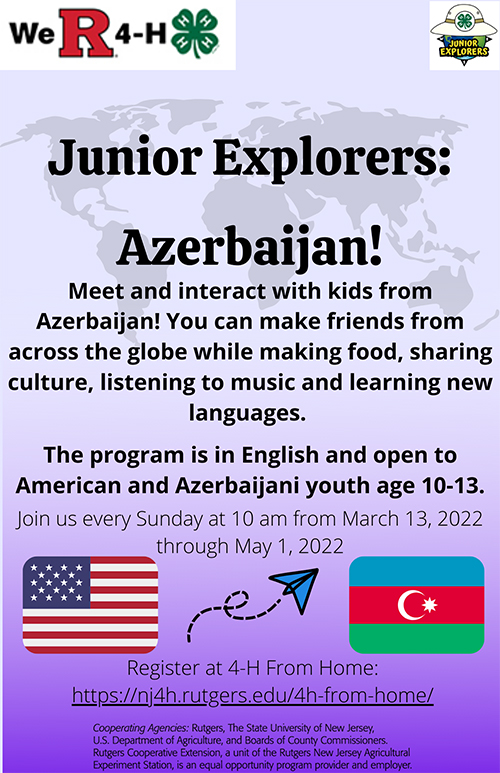 Travel Bugs United States
We may not be able to travel right now, but we can still take a trip out-of-state to learn about unique cultures in other US communities. Join us each week as we embark on adventures to New York, DC, Cape Code, and Hawaii! This program is open to youth in grades 6–9. Sessions will be held on Thursdays from 4:00-5:30 p.m. on March 10, 17, 24 and 31.
Travel Bugs United States Registration Link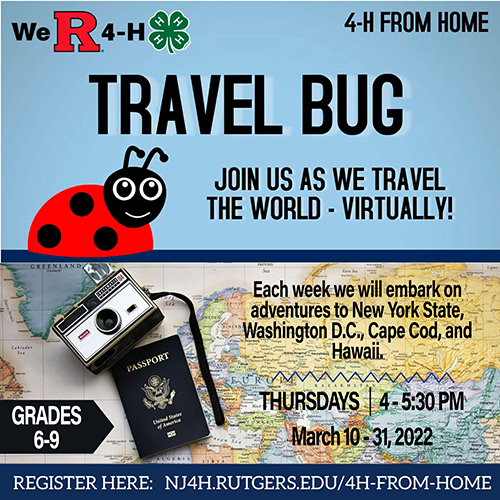 Computer Science Exploration & Design
Youth will work with Rutgers University College Students who are also 4-H CS Educators where they will explore the many areas of computer science including coding, sequencing, decoding, debugging, algorithms, game design, etc. Youth will learn both important computer science/STEM skills while practicing computer science with and without (unplugged) a computer. Students will be invited to join other students from Northern NJ who have participated in this program to participate in a 4-H CS Pathways Showcase. There will also be opportunities for youth to learn more about the various computer science fields (from computer science professionals). Sessions run on Saturdays, March 5–26 from 10:30–12:00 a.m.
Computer Science Exploration and Design Registration Link
Globetasters 10: Rockin' Rices
Sessions run on Mondays beginning April 25th, May, and June.
For grades 4–12.
Short, medium, or long – RICE is a grain that's got it all! From around the world, let's cook a variety of rices as a staple for some delicious dishes.
Globetasters 10: Rockin' Rices registration »
NJ Pollinator Habitat Ambassadors
6:30–8 p.m. on four upcoming Thursdays: April 28, May 5, May 12, June 9.
Open to youth in grades 9–12.
New Jersey 4‑H is seeking teens like YOU to become Pollinator Habitat Ambassadors. Our goal is to help Teen Pollinator Habitat Ambassadors to educate more than 250 younger youth about the important of pollinators in our state over the next year. Receive training and teach others in your home community about the importance of pollinators.
More information about the 4‑H Pollinator Habitat Ambassador Program

NJ4H Pollinator Habitat Ambassadors Zoom Training registration »
Cool Chemistry STEP Club
Thursdays in April; 4/7, 4/14, 4/21, and 4/28 from 4–5p.m.
Youth must be in grades 4–6
Put on your lab coats and get ready for some do-it-yourself science! Back by popular demand, Colgate Palmolive Scientists and IT specialists will guide you through the world of hands-on STEM. Get ready to engage your brain with exciting experiments in this four session virtual series.
Stay up to date with program offerings by visiting 4-H from Home (rutgers.edu)