Main Content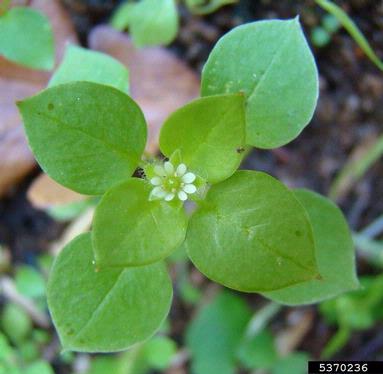 Common chickweed (Stellaria media) is a highly adaptable winter annual weed. It is present in most cropping systems and can be found year-round in areas with sufficient shade and soil moisture.
Importance as an Agricultural Weed
Common chickweed diminishes the aesthetic quality of turf and, in low-maintenance lawns, can be difficult to control due to its mowing tolerance. Germination timing in early spring or late summer coincides with seeding dates of small grains and forages, so an abundance of common chickweed can hinder the establishment of these crops. Active growth of common chickweed in spring competes directly with small grains for moisture during the heading and grain filling stages – this can result in yield reduction. In no-till systems, fall control of common chickweed is critical. Common chickweed can also be a host for common pests like lygus bugs and thrips as well as a reservoir host for tomato spotted wilt virus (TSWV) and cucumber mosaic virus (CMV).
There are several challenges with managing common chickweed. Individual plants can produce as many as 800 seeds which are able to germinate shortly after dispersal and sometimes result in 2 generations per year. Alternatively, common chickweed seeds can survive in the soil seedbank for 7+ years; failure to prevent seed formation creates a long-term problem. Plants can complete their life cycle in as few as 5 weeks and, coupled with the long germination period at some sites, means this weed requires frequent management. More mature plants can also root at the leaf nodes which reduces susceptibility to cultivation and complicates hand removal.
Key Characteristics for Identification
Characteristics
Description
Overall Appearance
Low-growing weed that can root at the leaf nodes, forming a weed mat
Leaves and stems are light green in color, frequently with a glossy sheen
Leaf Attributes
Egg-shaped leaves with pointed leaf tips and smooth leaf margins
1/2 to 1-inch in length
Opposite leaf arrangement
Upper leaves may lack leaf petioles
Presence of Hairs
Stems have 1-2 rows of hairs
Most leaf petioles have small hairs
Flowers
Small white flowers with 5 deeply lobed petals
Deep lobes may give the appearance of 10 petals
Blooms from early spring to autumn
Chemical Control Options
For herbicide recommendations, refer to the following publications. Additional commercial crop production guides can be found here. Contact your local county Extension office with specific questions.
Important note: ALS-inhibitors (group 2) are commonly used to control broadleaf weeds like common chickweed across a range of cropping systems. Diligence is needed to prevent the development of herbicide resistant chickweed biotypes on your farm as biotypes resistant to ALS-inhibitor herbicides have been confirmed in Delaware, Pennsylvania, and several other states in the region. When utilizing ALS-inhibitor herbicides, use the full label rate and tank-mix with another effective herbicide mode of action.
Integrated Weed Management Strategies
In turfgrass, presence of common chickweed indicates sparseness of the turf. Prevent chickweed infestations by improving turf stands with regular maintenance like fertilization and limestone application based on soil test results. Choose turf species that are well-adapted to the soil conditions at your site.
Prior to establishing a winter grain or forage, late summer cultivation of newly emerged chickweed seedlings can reduce crop-weed competition.
A vigorous fall cover crop can reduce chickweed growth in fall and early spring. Common chickweed is shade tolerant; seed your cover crop at the optimal time and at a higher seeding rate to ensure a dense, competitive cover crop stand.
Common chickweed is troublesome because it can germinate, grow, and produce seed during most of the year. Common chickweed's ability to root at the leaf nodes also makes it less susceptible to tillage as each plant matures. Plan on shallow yet frequent tillage where common chickweed is a problem.
---
References
Chandran, R. (2020, June). Common chickweed. WV Extension Service. https://extension.wvu.edu/lawn-gardening-pests/weeds/common-chickweed
Landschoot, P., Delvalle, T., & Abbey, T. (2020, July 13). Lawn and turfgrass weeds: common chickweed. PennState Extension. https://extension.psu.edu/lawn-and-turfgrass-weeds-common-chickweed.
Mohler, C.L., Teasdale, J.R., & DiTommaso, A. (2021). Major agricultural weeds of the United States and Canada: Broadleaf weeds and their relatives. In L. Barba (Ed.), Manage weeds on your farm: A guide to ecological strategies (pp. 239-242). Sustainable Agriculture Research and Education.
Uva, R.H., Neal, J.C., & DiTomaso, J.M. (1997). Weeds of the Northeast. Cornell University Press.
Vangessel, M. (2014, September 19). Considerations for small grain weed control. Plant and Pest Advisory. https://plant-pest-advisory.rutgers.edu/considerations-for-small-grain-weed-control-2/.