Main Content
Cover cropping season is in full swing. As you harvest your summer crops and shift your focus to winter cover, you may be interested in seed germination testing for cover crop seed. If you're looking for a quick and easy germination test you can do at home, check out this bulletin from University of Maine.
If you're looking for a more intensive evaluation, seed testing is also available from New Jersey Department of Agriculture (NJDA). At the NJDA Plant Laboratory, seed can be evaluated based on germination, purity, presence of noxious weeds, vigor, varietal identification, and mycotoxins. As a reminder, NJDA no longer picks up samples from the Extension office in Westampton. Submit samples directly to the Plant Laboratory.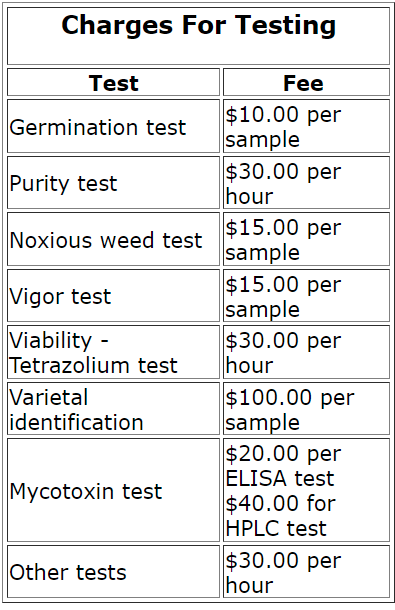 Pursuant to N.J.A.C. 2:21, "New Jersey commercial producers of agricultural and horticultural products are permitted two free germination tests within a fiscal year." There is a fee schedule for additional testing services (see photo at right).
To submit seed samples to the Plant Laboratory, follow these instructions:
Collect a representative sample of at least 1,000 seeds per lot

Germination tests require 400 seeds and another 400 seeds are used in the event a retest

Fill out the Seed Sample Submission Form
Package submission form, seed sample(s), and payment for germination and/or noxious weed examination

Farmers need not include payment for the first 2 germination tests submitted each fiscal year (July 1 through June 30)
Other analyses will be billed based on number of hours for testing
Make checks payable to 'New Jersey Department of Agriculture' and indicate 'Seed Testing' in the memo

Submit samples by mail or in person

By mail: State Seed Analyst, New Jersey Department of Agriculture, Division of Plant Industry, PO Box 330, Trenton, NJ 08625-0330
Call the Plant Laboratory with additional questions at (609)406-6939.